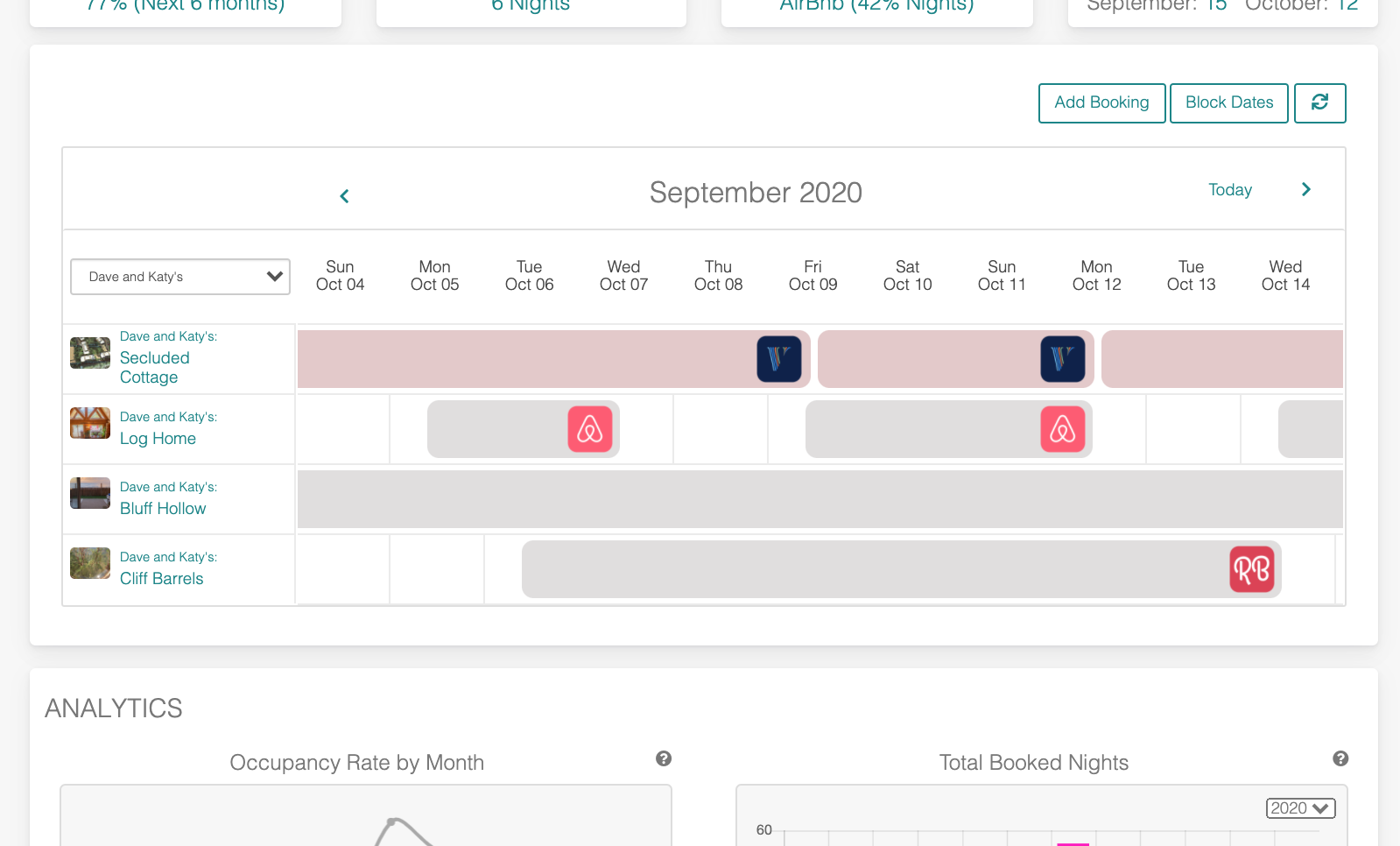 Simplifying your business
RentalBell is a vacation rental channel management platform that manages your rental's availability across hundreds of channels like VRBO, Airbnb, Trip Advisor, Booking.com and more. Spend less time worrying about double bookings from manual errors and more time on growing your business.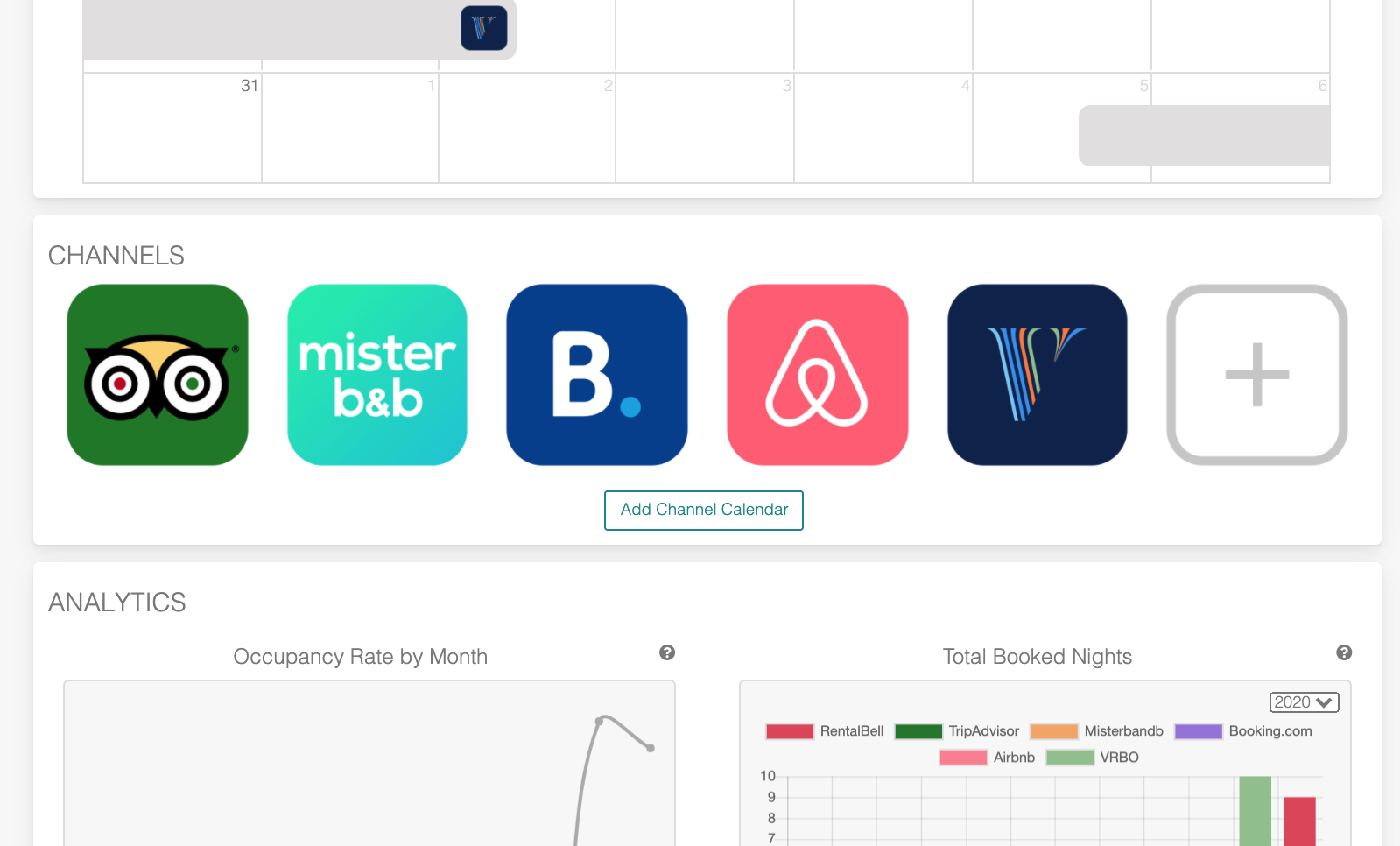 Increase your visibility and revenue
Grow your occupancy and increase your revenue by connecting to and being visible on the most relevant online channels for your hotel, hostel, B&B, guesthouse or vacation rentals.
Detailed analytics at a glance
Understand what channels are performing best, and learn more about the booking behaviour of your customers like when they book, the average lead time, how long they stay, and where they come from.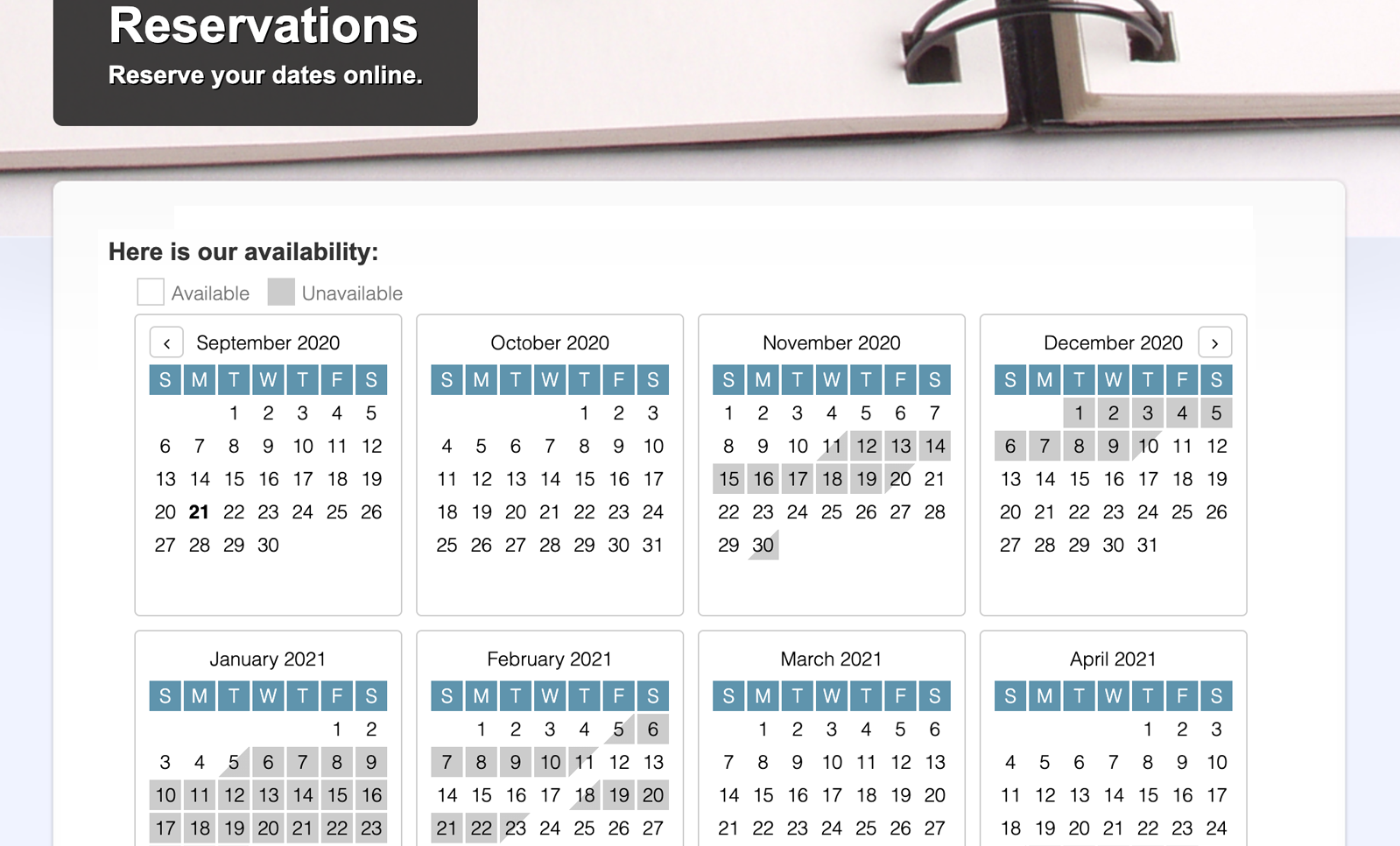 An availability calendar for your website
Embed a customizable availability calendar on your website that matches your site's look and feel and is always up to date. Have multiple rentals? We offer a multi-rental calendar widget too.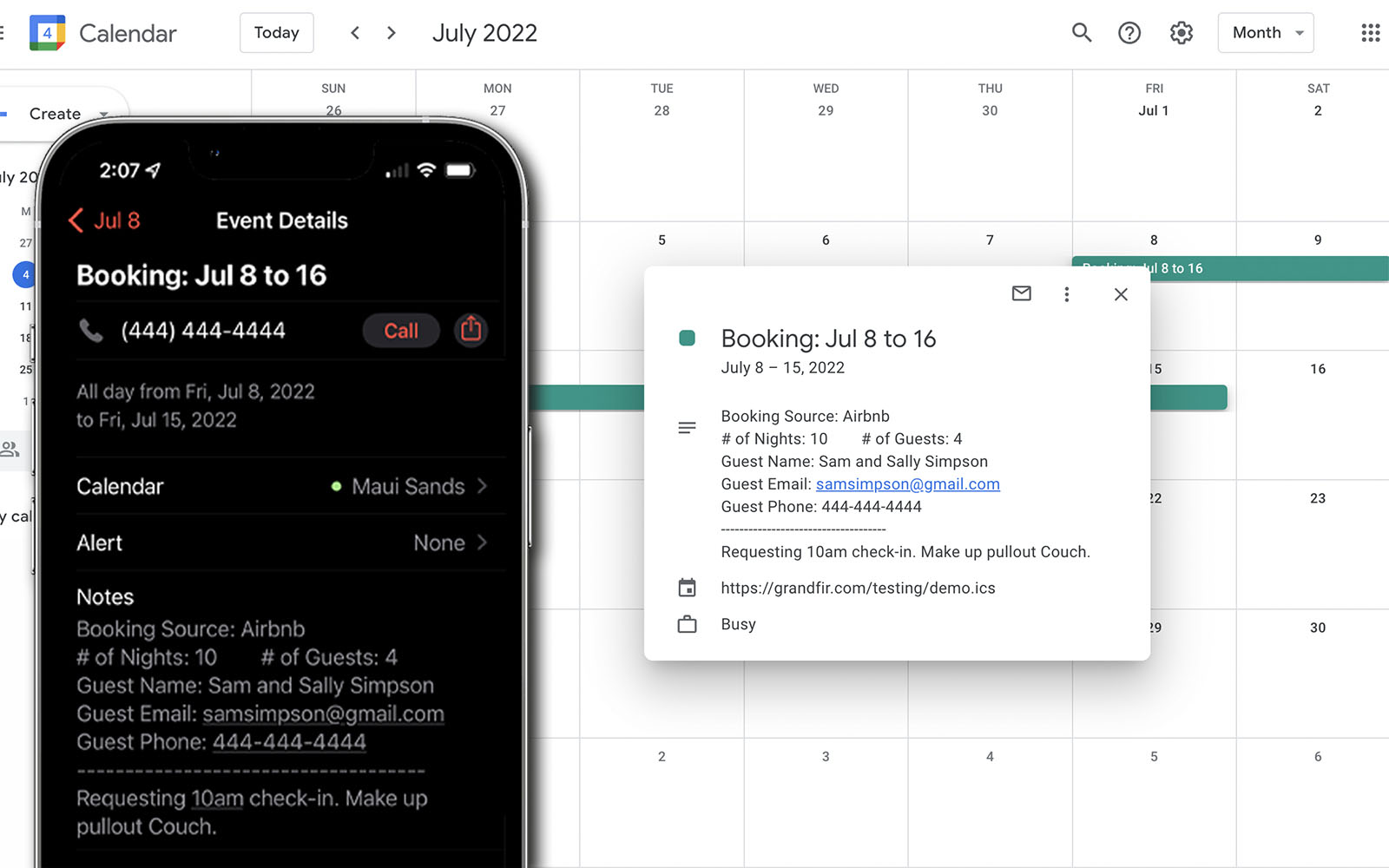 Integration with 3rd-Party Calendars
Conveniently access your rental calendar details from applications like Google or Apple Calendar. Read calendar notes and details for each booking, and call or email your guests with one tap.
Features
Tools that simplify your property management business
---
RentalBell automates many of the tasks that come with having your rentals listed on multiple OTA platforms.
True-Sync with 300+ Channels
RentalBell will sync your rentals' bookings and availability with over 300 channels and ensure that the risk of double bookings are eliminated.
Add Bookings/Block Dates
Add bookings or block off dates directly through RentalBell and your changes will be synced automatically with all connected channels.
Saved booking information
RentalBell keeps all historical bookings stored in your account so you can review your booking history at any time.
Preparation Time Manager
Set the amount of time you need to clean or prepare between bookings and RentalBell will automatically block off those nights and sync these preferences with all your connected channels.
Availability Window Manager
Choose how far in advance you would like to accept bookings and RentalBell will sync these preferences with all your connected channels.
Detailed Analytics
Understand where your bookings are coming from, the average length of stay, what channels are performing best, lead time and more with intuitive graphs and data.
Custom Calendar for Your Website
Own a rental website? Embed the RentalBell rental availability calendar and show your customers your availability. Customize this responsive calendar to match the look and feel of your website. Choose from a single rental or multi-rental calendar or use both!
Team Calendar & Notes
A calendar just for members of your team (cleaning, management, handyman etc.) where they can review bookings and blocked dates and read special notes or instructions you have for them.
3rd-Party App Integration
Conveniently access your rental calendar from 3rd party applications like Google or Apple Calendar. Read calendar notes and details for each booking, and call or email your guests with one tap.
Teammate Notifications
Have RentalBell automatically notify your cleaning, management, and handyman of upcoming bookings, cancellations or changes to reservations the instant they occur. RentalBell requests confirmation from your teammates that messages were not just delivered but also read!
Security and Full Redundancy
RentalBell performs backups daily, utilize Sucuri® malware and hack protection services (including DDoS attack mitigation), and use SSL encryption to ensure that your business is receiving the protection it deserves.
Pricing
Choose your perfect plan
---
We are currently offering a 90-day free trial for our Standard subscription level and then only $5.99/month! If you manage more than one rental, the price becomes even more affordable.
Basic
free

True two-way calendar syncing (1 channel only)
Add bookings, block dates via RentalBell
Calendar for your website (ad-supported)
Manage multiple rentals
Daily Backups & archived historical bookings
Limited tech support

Get started
Standard
$
5.99
Per Rental, Billed monthly
Everything in Basic Plus:
True two-way calendar syncing (12 channels)
Ad-free calendar for your website
Multi-rental calendar for your website
Website calendar in multiple languages
Team Calendar with Notes
Booking Analytics
Preparation Time Manager
Availability Window Manager
View calendar in 3rd-party applications
24/7 tech support

90-day Free Trial!
Get started
Pro
$
14.99
Per Rental, Billed monthly
Everything in Standard Plus:
Priority 24/7 tech support
True two-way calendar syncing (unlimited channels)
Multi-rental Team Calendar
Teammate Notifications

Coming soon
FAQ
Frequently asked questions
---
Got a question? We've got answers. If you have some other questions, see our support center.
What channels does RentalBell support and can sync with?
RentalBell supports and can sync with over 300 vacation rental channels found on the Internet. If you find one that is not compatible, let us know and we'll add it!
Does RentalBell prevent double bookings?
Yes we do. RentalBell offers a true, two-way syncing service that keeps all your connected channels up-to-date with the latest availability that you have. A booking that occurs on one channel will almost immediately be blocked out on all your other connected channels.
Do you charge commissions or extra fees?
RentalBell does not charge a commission on the channels you are connected to or on any bookings you receive. We charge a flat monthly or yearly fee for each rental that you have. There are no setup fees either! Sweet, right?
Is this a secure site for purchases?
Absolutely! We use Stripe, an industry leading payment processor, to handle and store credit card information and payments. We also utilize SSL encryption and the services of Sucuri, for website security.
Can I upgrade, downgrade, or cancel my subscription?
You can upgrade or downgrade the subscription level for each of your rentals at anytime. Just visit the Subscriptions & Billing page when you are logged in. Once the subscription is cancelled or downgraded to basic, your credit card will no longer be charged.
When will the Pro subscription level be available?
We are planning to launch the Pro subscription level in 2021.
Do you offer discounts?
Yes! If you sign-up for the annual plan you'll receive a 20% discount. Also, if you have more than one rental, we offer additional discounts. Check out the rate table here for multiple rentals.
I am building a website for my rental, can RentalBell help?
Yes. RentalBell provides an availability calendar for your rental that you can embed on your website. It's as easy as copy and paste.
I have a personal website with an availability calendar, can I sync it with other channels?
Yes! Depending on the system you are using, simply import the ICS file that your availablity calendar generates into RentalBell and export the RentalBell ICS file into your calendar software and away you go! Alternatively, you can replace your existing calendar with a customizable RentalBell one.
What languages do you support?
RentalBell's public calendar and embeddable calendar widget for your rental website is currently offered in 8 languages: English, French, German, Portugese, Spanish, Italian, Dutch, Norwegian. Additional languages are available upon request.